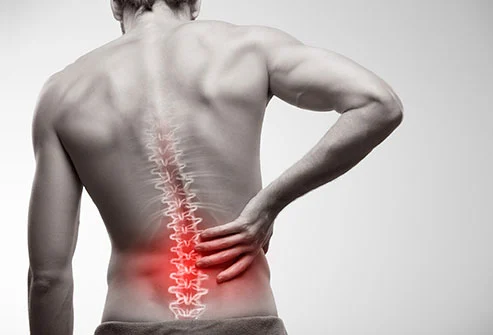 What is Back Pain?
Back pain consists of any pain, stiffness and/or discomfort in parts of the back ranging from the lower neck to the lower back. Pain in the back can be presented differently based on severity, duration and etiology.
Back pain can be acute or chronic and may present as dull pain or sharp pain or both depending on the cause of the pain. The pain may also be accompanied by neurological symptoms such as numbness, tingling and/or weakness in some cases.
The back is classically categorized into three regions of upper back, middle back and lower back.
Lower Back Pain
This is one of the most common types of back pain. Lower back pain can present as acute (less than 6 months) or chronic back pain (more than 6 months) and it can also be mechanical in nature such as spine, muscle or disc related but can also be non mechanical such as pain from kidney stones.
With acute lower back pain, early treatment and accurate diagnosis significantly reduce the chance of chronicity and with proper management, acute back pain that is mechanical in nature will heal.
When left untreated or ignored, acute back pain can linger and eventually become chronic low back pain. Management strategies are often different and involve physical rehabilitation exercises, short training programs and guided physiotherapy and chiropractic sessions to ensure treatment is moving in a positive direction.
Middle Back Pain
There is certainly less data and research done on mid back pain since this condition is not as prevalent as upper back and lower back pain. Our mid back, also known as thoracic spine generally has less mobility, is less prone to conditions such as disc herniations and muscle strains compared to the other regions of the back.
However, certain conditions such as postural strain, car accidents, rib joint dysfunctions and scapular dyskinesis can present as pain in the mid back and impact an individual's ability to perform their day to day tasks with ease.
Upper Back Pain
Upper back pain involves pain in the upper thoracic and lower cervical regions of the spine. Many individuals also describe pain in their upper trapezius muscles and levator as upper back pain.
Through clinical practice, we see that this type of pain is more common in females than males and is predominant in those individuals that perform office type of work, working in front of a computer for prolonged periods of time. Therefore, a large number of upper back pain and even neck pain can be considered postural and due to muscle fatigue from prolonged strain and immobility.
SUFFERING FROM UPPER, MIDDLE OR LOWER BACK PAIN?
Book your treatment session with our chiropractors and physiotherapists!
Causes of Back Pain
Based on the regions affected, the etiology of the back pain varies significantly. Most common causes of back pain include:
ANY OF THE BACK PAIN CAUSES BOTHERING YOU?
Set your back adjustment session with our Chiropractors and Physiotherapists!
Available Treatments for Back Pain
At Fulcrum Therapy, we have access to various treatment modalities and tools to bring relief for your back pain.
As you can see, the treatment options for back pain are numerous but we do not expect you to know what will work for you the best.
When you make an appointment with one of our expert practitioners, we perform a thorough history and exam to determine a diagnosis for your specific condition. We use our expertise and knowledge to decide which form of modality and treatment will yield the best results and get you out of pain the fastest.
We discuss your options, explain your diagnosis and ensure your comfort level is prioritized with any type of recommended modality for treatment of your back pain.
Our clinic is located at 103-1112 Austin Ave, Coquitlam, BC and you can reach us at 604-917-0777 to book your appointment with our back pain chiropractors.
Meet Our Back Adjustment Chiropractors
SCHEDULE YOUR APPOINTMENT NOW
Request your appointment online and our team of experts will reach you shortly!
Visiting a Back Pain Chiropractor Do NOT Require A Doctor's Referral.
Any concerns about insurance & billing? Find more details here!